One of the more surprising consequences of the Covid pandemic is the way it has shaken up the housing market. The economic uncertainty created by the pandemic might have been expected to subdue demand for large ticket items like houses. The housing market has, however, since a steep rise in price. This is presumably because the pandemic has fundamentally changed attitudes to home working and quality of living space.
To put some context on the change in house prices the following chart looks at house prices since 2005 in the East Midlands, West Midlands and England. The rapid rise in average house price over the last year is unprecedented. The average house price in the East Midlands has risen from £221,000 in February 2020 to £273,000 in February 2021.
If we look within Leicestershire then, as the following chart shows, there have been increases across the board. This chart looks at the change in average house price between March 2020 and March 2021 by local authority. Interestingly, Oadby and Wigston sees the most pronounced increase in prices, while nearby Blaby has the lowest annual increase. This has resulted in average house prices in Oadby and Wigston (£275,165) jumping above hose in Blaby (£249,077)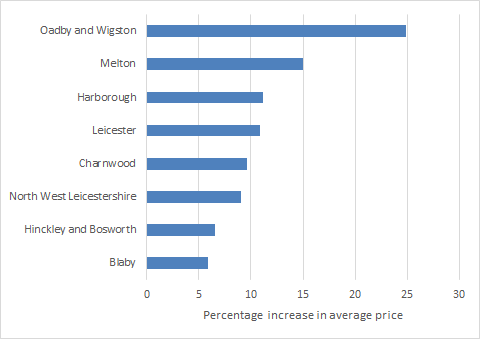 If the rise in house prices is driven by a preference for better living space then we might expect the increase in price to be particularly pronounced in detached houses. While we do see this in the data it is not as pronounced as one might expect. The following chart looks at the change in house price in Leicestershire between March 2020 and March 2021 for different types of property. The largest increase in price is actually in terraced properties. We also see a significant rise in prices in flats.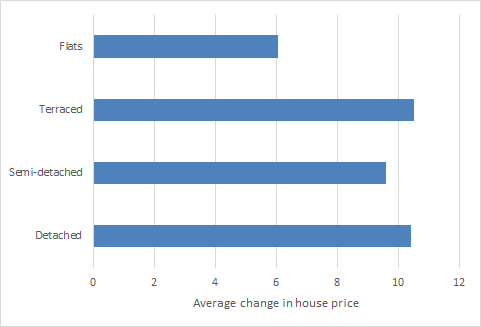 A key question is how much the rises in house prices is being driven by the stamp duty holiday that is due to end in June. The increase in house prices we have seen exceed the amount that buyers would have saved through stamp duty. Even so, the stamp duty holiday may have created a wave in the housing market that will not persist once stamp duty kicks in again. We will, therefore, update the story once the numbers start coming in for the second half of 2021.