UK inflation is rising at its fastest rate for 30 years. Last January, the Office for National Statistics (ONS) published the latest inflation numbers. The Consumer Prices Index (CPI) rose by 5.5% in the 12 months to January 2022. This is the highest rate since official numbers were released in January 1997.
We receive the same message with the Consumer Prices Index that includes owner occupiers' housing costs (CPIH). It is the most comprehensive measure of inflation, which was reinstated in July 2017. It extends CPI to include a measure of the costs associated with owning, maintaining and living in one's own home, known as owner occupiers' housing costs (OOH), along with council tax. The CPIH rose by 4.9% in the 12 months to January 2022. Like with the rise in CPI being the highest in the past 30 years, the rise in CPIH is the highest recorded in the National Statistic series, which begins in January 2006.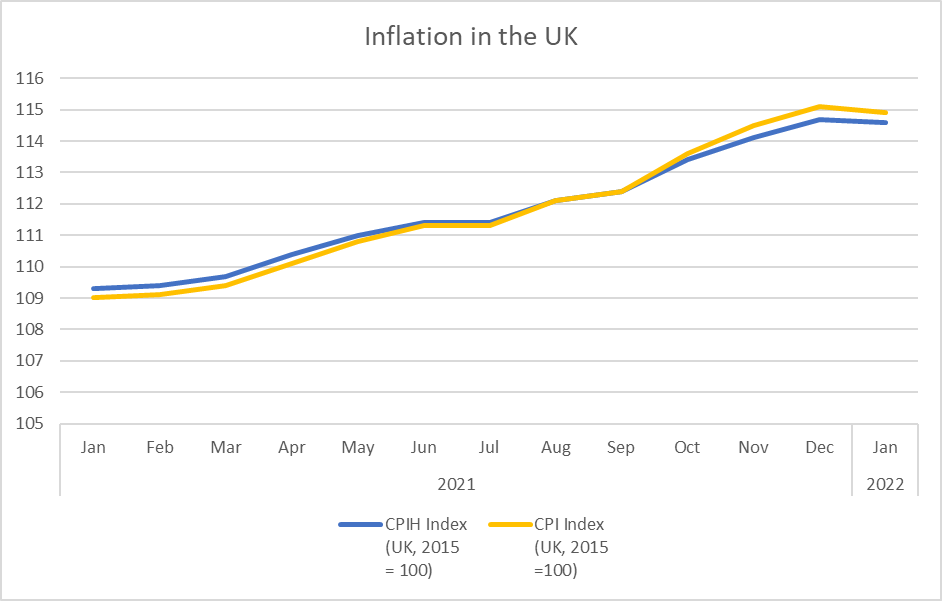 While data from the ONS plots a picture at the national level, it remains silent as far as the regions in the UK are concerned. Do different regions suffer disproportionately? Which region experienced the fastest rising prices?
To answer these questions, we need to estimate the regional inflation rates. The ONS provides us with a breakdown of how each category of goods and services contributed to the overall inflation rate. According to this data, the largest contributor to the CPIH 12-month inflation rate was housing and household services, mainly due to the increase in the cap on energy prices, which changed on 1 October 2021.
We would also need to know the share of expenditures across different regions in the UK. The latest records of such data were provided by the ONS in 2018.
With the regional expenditure share and the price increase in each good and service category, we can estimate the overall price increase in each of the regions in the UK. The highest rise occurred in London while East Midlands and Wales had the lowest 12 month-rate CPIH. There is one caveat with the numbers in this approach. The estimated numbers rely on the expenditures share in 2018, which might be different from the current one.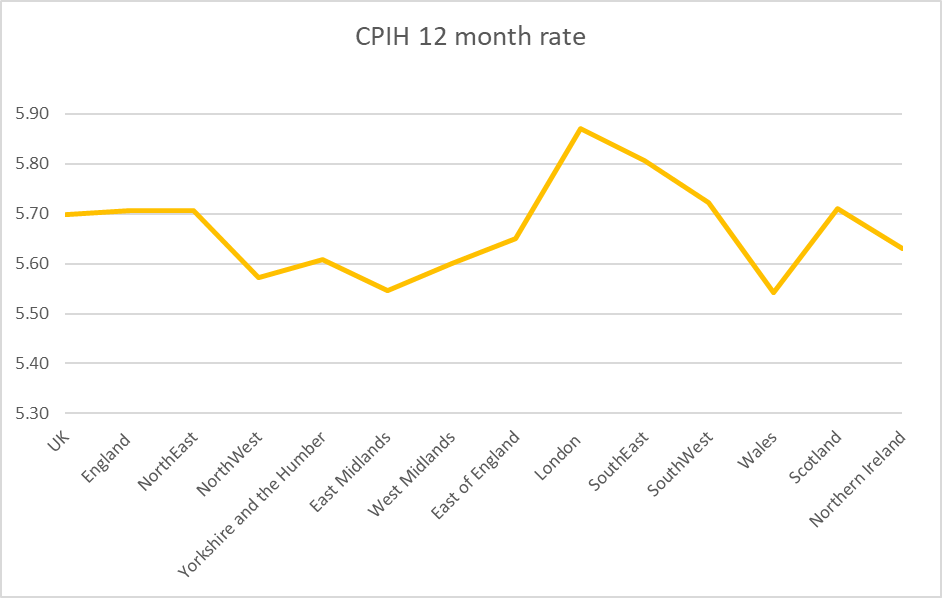 Although the 12-month CPIH rate rose the highest in the past 15 years, there are signs that inflation might slowdown. Both the national 1-month CPI and CPIH rates recorded negative values, at -0.2 per cent and -0.1 per cent respectively. Our estimated numbers show that there is a large regional variation. The largest drop in 1-month CPIH rate was in Northern Ireland. East Midlands was also among the regions with the large drops in inflation. London might have experienced the smallest decrease.